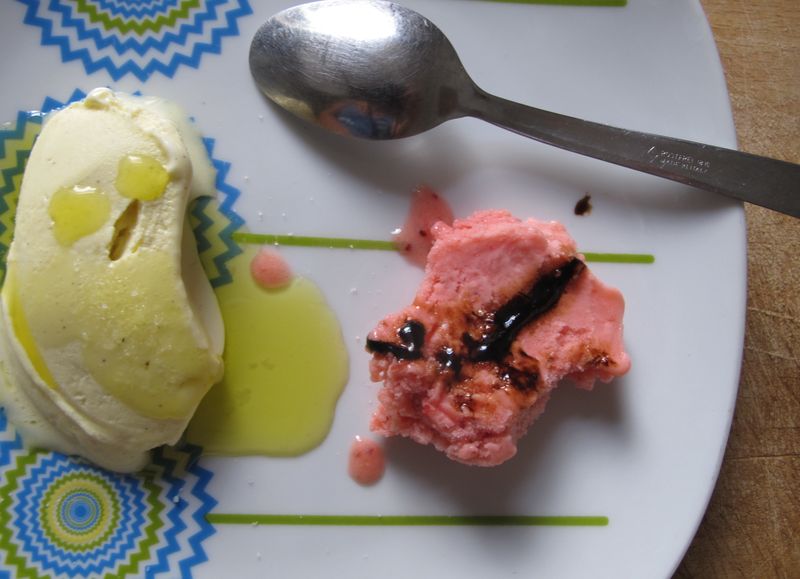 We celebrated US National Ice Cream month, Gustiamo style, using both traditional balsamic vinegar from Modena and EV olive oil.
A few drops of the traditional stuff from Modena can go a long way when it comes to balsamic.
The taste of our Ca' dal Non Traditional Balsamic Vinegar over vanilla or strawberry gelato is sweet with an aged savory essence of the Acetaia's wooden battery.
While this year's olives are ripening on Italy's trees, we are finishing off last years EV olive oil for dessert! We recommend a scoop of vanilla gelato and a teaspoon of our Sicilian Pianogrillo Extra Virgin Olive Oil with Vincenzo Gucciardo's Sea Salt from Trapani, Sicily, sprinkled on top. The combination of creamy vanilla and fruity EV olive oil is reminiscent of the divine mozzarella/EV olive oil combination. To make this dessert even more Sicilian, and arguably more delicious, eat it on a brioche!
Everybody is talking about Gelato! Our favorite blog posts recently have mostly been about gelato. Read: Katie Parla's best gelato in Rome, Dissapore's description of what gelato should not be, and Serious Eats' justifiably intricate discussion of gelato vs. ice cream.