The Hotel Victoria in Torino is in the center, near Piazza San Carloit has 100 rooms, but it feels like a small townhouse. It is an oasis of tranquillity, near everything there is to do and see in Torino.The same family still runs the hotel since it opened in 1961and recently completed extensive renovations, which included the swimming pool and the breakfast room, overlooking the garden. Breakfast is taken seriously at the Hotel Victoria and they pride themselves for having received awards for best hotel breakfast.
If you go to Torino,

I highly recommend you stay at the Hotel Victoria – talk to Sig.ra Bruna, if you decide to go.I went there for the Salone del Gusto, a month ago, and appreciated the possibility to unwind in such a quiet place.
I was convinced I made the right decision when I saw Alice Waters, every morning, always guarded by a plethora of assistants. Other than big reciprocated smiles, I never had a chance to say hello, but I know what she had for breakfast: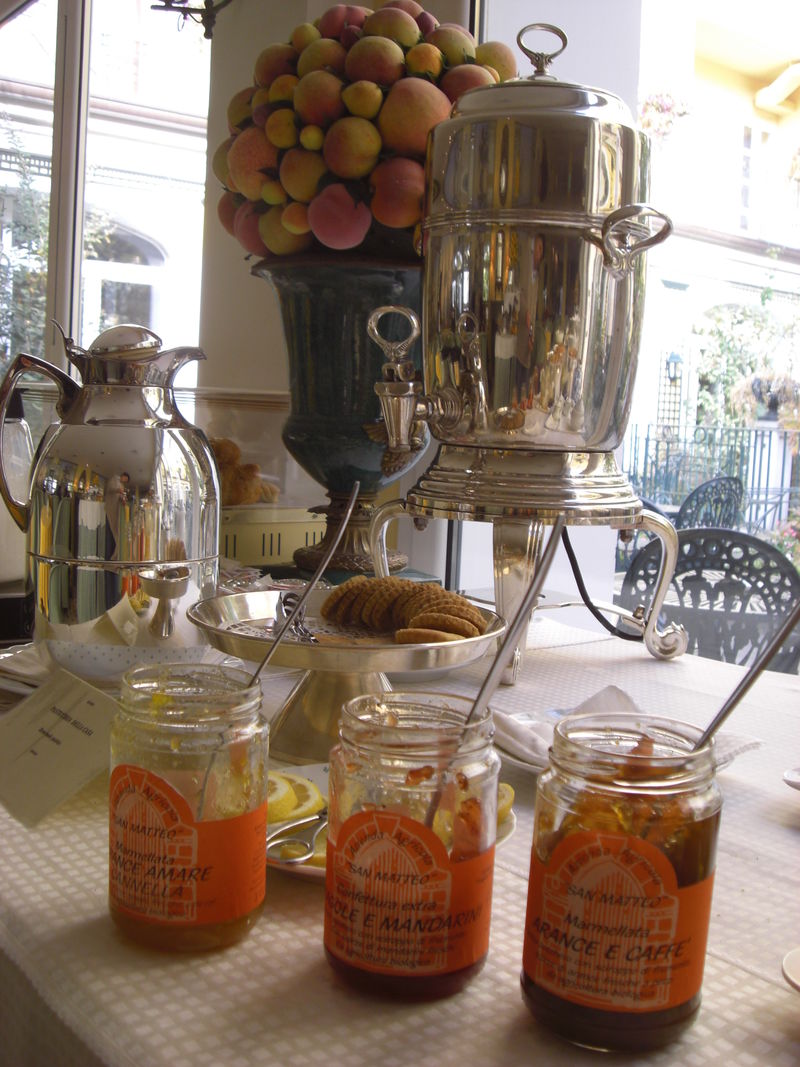 Alice Waters had the exquisite San Matteo fruit preserves and jams for breakfast. Although I never talked to her, I am sure she loved them.

Carlo Limone's San Matteo organic farm is located near Catania. He makes savory sauces and products such as salsa for pasta con le sarde, caponata. He combines unusual Sicilian fruits for his jams and preserves. His Apple and Rosemary jam won the SOFI silver award at the Fancy Food Show in NY, last June, 2008, meaning that his jam was chosen among 1,500 products in 32 categories. Not easy to get noticed, with so many products to taste. Alice Waters noticed, too.