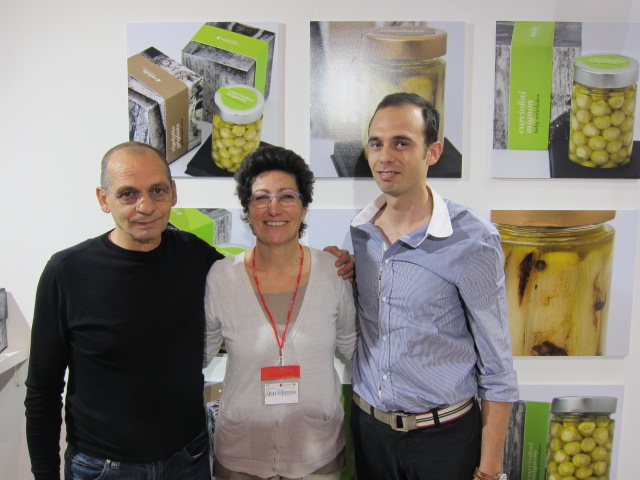 Papaccelle and Cipollotto Nocerino are two new products Gustiamo started to import from the Maida Vastola farm. Left, Beatrice between Francesco Vastola and Fabrizio, his son.
Ever heard of Papaccelle and Cipollotto? What are they? No doubt, Gustiamo is the only crazy importer of this rare stuff.
They are vegetables, both protected by Slow Food presidia; typical products of the Cilento area, meaning they do not and cannot grow anywhere else in the world.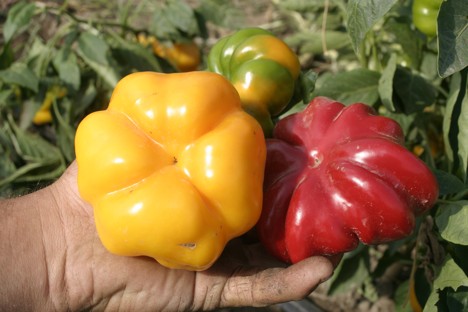 Francesco Vastola, whose farm is located smack in the middle of beautiful Cilento area, near Paestum, grows both Papaccelle and Cipollotto. After steaming them with a drop of very good white wine vinegar, he puts them in jars with his own extra virgin olive oil. Papaccelle (picture, left) (plural; papacella [singular] does not exist) belong to the peppers family and look like them, but they are smaller and flattened. Their taste is sweeter, more delicate and more digestable than ordinary peppers.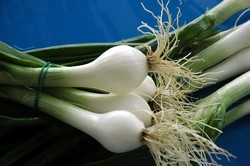 Cipollotto Nocerino (picture left) (singular) is even rarer and received the DOP (Denominazione di Origine Protetta) status by the Italian government. It belongs to the onion family, and it looks like an onion, but it is smaller, white and long. Sweeter and more digestable than ordinary onions. They are so rare and unique, we asked Francesco Vastola, the farmer, to introduce them in the video below. This is what he says (click on the arrow, below):