So, our main advice is: eat good gelato and eat it non stop because it is SO DANG HOT!
What was the first thing Beatrice said when she stepped out of the airport, returning from Sicily (steamy summer SICILY)?
"Mamma mia che caldo!"
Yes, NYC is hotter than Sicily. You need gelato. Here's what we suggest:
Pistachio cream dollop. Take your favorite gelato or ice cream, or really, any cold treat. Add a heaping spoonful of pistachio cream on top. You will thank us.
EVOO + Sea Salt Flowers. Take vanilla gelato, drizzle with some good EVOO (we recommend Pianogrillo), sprinkle with Fiore di Sale from Trapani. Bam.
Traditional Balsamic. If you've been thinking about investing in a bottle of Aceto Balsamico Tradizionale, now's the time. A drizzle of tradizionale over vanilla, strawberry, or any fruit flavor is WOW!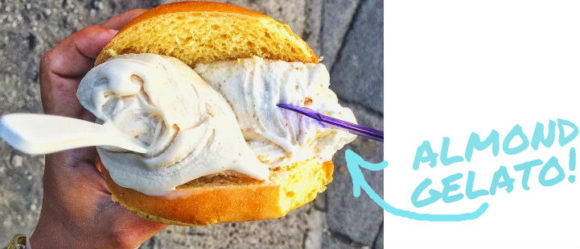 Ok, you fancy ice cream maker people, these next two are for you:
Almond cream. Use this as your almond gelato base. We made it the other day! Adjust to taste, but we suggest 1 jar for every 4-5 cups of milk/cream + some chopped almonds for good measure.
La Subida Vinegar Sorbetto. This recipe is from our friend Faith Willinger. It is a recipe inspired by La Subida, the good food paradise in Friuli!