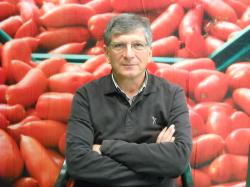 The tomato San Marzano is protected by DOP, a law valid in Europe, which means that if you call a tomato "San Marzano" that tomato has to come from a specific area near Naples, from specific tomato seeds and has to be processed in a specific way. If you don't follow these rules and you call San Marzano your tomato, you are operating outside the law.
Edoardo Ruggiero, the man on the left, is the president of the Consorzio San Marzano, the organization that protects the honor of the tomato San Marzano.
I met Edoardo on my recent trip to Italy and it was one of the most interesting encounters of my  entire "food" career. First thing Edoardo said was: maximum 1% of tomatoes in America sold as San Marzano are real San Marzano. Then, when I told him I would put it in writing, he said, OK, let's say 5%, to be on the safe side. It is still huge! Shocking! Absolutely SHOCKING!!! It means that at least 95% of the tomatoes that you find in the supermarkets and that make a reference to San Marzano on their label, are not San Marzano; that you are paying a mark up for a fake product. It does not mean the product is not good; it means that the product is NOT  San Marzano and should not be promoted as such.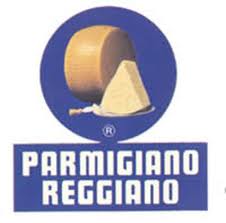 Edoardo went on and explained to me that "illegal" companies send big containers of tomato tins "in bianco" (without labels) to America and the labels are put on the tins when they have safely arrived to America. Since in America, the DOP does not have any legal value, you can call a tomato San Marzano, San Giovanni, Giuseppino… it cannot be pursued. In fact, Edoardo tells me, there is a company that calls itself "San Marzano" and specifically announces on its labels that its tomatoes are even grown in the USA. I don't know the international food laws, but something is not right, here. What would you think if a dairy in Wisconsin calls itself "Parmigiano Reggiano"?