You may know Gambero Rosso as the premier guide for Italian wines and restaurants, but did you know they also have a guide to Italy's Top Foods?
Now in its sixth edition, Italy's Top Foods recognizes the country's best products and food businesses. And guess what? Pastificio Faella Paccheri is now officially one of the best foods in Italy. We are absolutely thrilled Gambero Rosso chose the magnificent paccheri!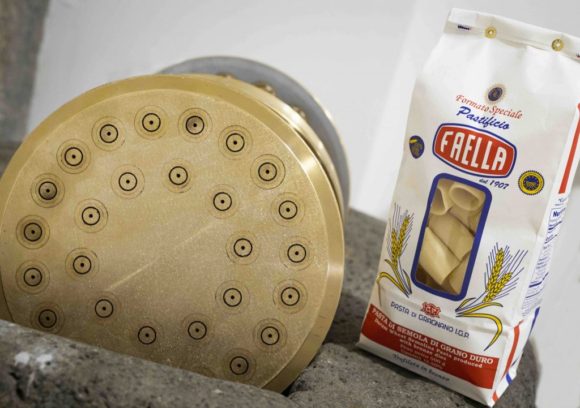 The Gambero Rosso guide to Italian wines and restaurants is one of the most respected gastronomical publications worldwide. With the introduction of "Top Italian Food", Gambero Rosso aims to favor the export of real Italian products. They are creating a special label that will help promote Italy's best foods and combat the phenomenon of "Italian sounding" names. This marketing technique is used to intentionally mislead consumers into thinking they are purchasing a real Italian product.
"It's a passport of quality, one designed to increase, consolidate and grow the prestige of our food products abroad, thus contributing to the fight against the phenomenon of "Italian Sounding"."
Pastificio Faella is one of Italy's premier pasta producers. This family-run business is based in Gragnano, the birthplace of dried pasta. Using only the highest quality Italian semolina flour, Faella's pasta is drawn through bronze dies. This means each pasta shape has an extraordinarily rough texture, ideal for sauce to stick to! After it's cut, the pasta is dried slowwwwwly over the course of at least two days to ensure premium texture.
The Paccheri shape is something really special. Originally from Campania, the name "paccheri" comes from the Neapolitan word "paccheriare", meaning "to slap". This is because their large, heavy shape "slaps" when you eat them, like a well-placed whack! This robust shape holds up well to hearty sauces, and can even be stuffed and baked. The Gusti team favorite recipe with Paccheri? Pasta e ceci alla Romana!