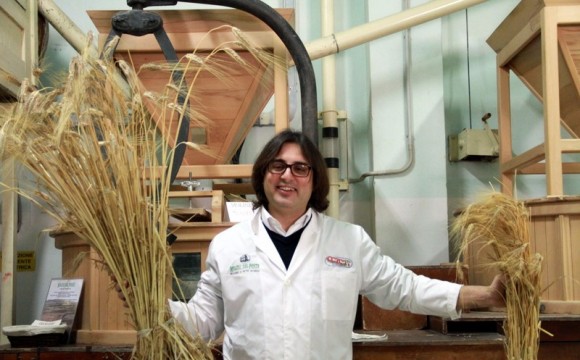 Calling all bakers, breadmakers, pizzaioli, and ancient grain enthusiasts… Let's Talk Flour.
Filippo Drago's flour is here in the USA, for its first time ever!
This guy, is Filippo. You might recognize him because he makes our incredible Busiate Tumminia Pasta. Here, he is standing in front of his stone mill in Castelvetrano, Sicily.
Filippo's first and foremost passion is milling ancient Sicilian grain into phenomenal flour. Gustiamo: Filippo Drago Milling in Castelvetrano
Watch this video to see Filippo in action.
He works with local farmers who cultivate ancient grains and then he produces flour using his stone mill.
We just received a shipment of Filippo's Pane Nero Flour. This is the momentous flour used to make Pane Nero di Castelvetrano (stay tuned to GustiNewsletters for this bread recipe). But this flour also brings amazing flavor to just about everything!
Rick Easton is an epic American baker. Seriously, have you seen Rick in the NYTimes?! Rick loves Filippo's flour, check out what he has to say about it:
"I often have discussions with people about identity preserved grains and flour. Grains of distinction, grains with character, grains with a story. The first example I always offer is tumminia wheat and the pane nero di Castelvetrano. Here is a durum wheat that has a natural honeyed sweetness and a delicate aroma that reminds me faintly of cinnamon. For these reasons, this grain has been grown since antiquity. Filippo Drago is a genius. His work to promote and preserve tumminia and other Sicilian heritage grain is utterly revolutionary. It is an honor to get the opportunity to work with flour from Molini del Ponte in the United States."
-Rick Easton
Key Facts about Pane Nero Flour:
Made in Castelvetrano, Sicily
100% stone milled
Traditional blend of Tumminia Wheat and other locally grown Sicilian Durum Wheat
Brings amazingly rich flavor to everything you bake