Andrew Zimmern went to visit our anchovy and colatura producer for his recent episode of Bizarre Foods, Amalfi Edition (start at minute 16:26).
We are so tickled to see Andrew, accompanied by Katie Parla, at Nettuno in Cetara. We have been there so many times, it's a special place for us, right in the heart of Cetara. Actually, Nettuno is the only producer of colatura who still makes colatura in the Cetara city center.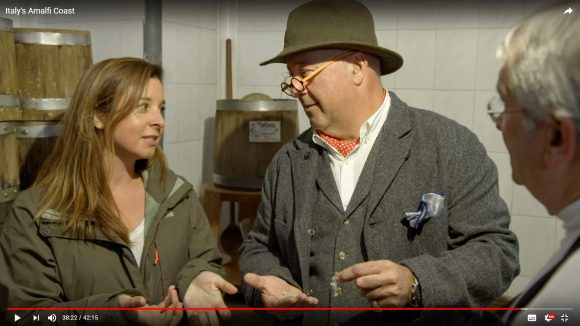 The best part of this episode is when Andrew describes the taste of the colatura. As soon as Andrew takes his first sip, he launches into tasting notes that can only be described as spontaneous food poetry:
"[The Colatura] changes from front to back [on your palate], it is so beautiful, gorgeous. It's just aged in the cask, it is matured, it has become finessed, and yes, it's salty but it's sweet and rich and deep."
Yes, bravissimo Andrew, that is Colatura.