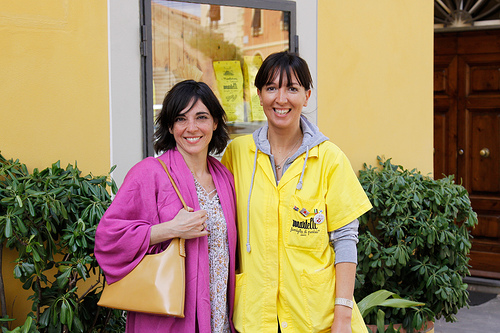 Our customers and friends, Karen and Robert just returned from their trip to Tuscany with great memories and even greater pictures. Highlight of the trip was a visit to the Martelli pasta factory, in Lari, a village perked on a a hill, near Pisa, since 1926. Left is Karen with Laura Martelli, the new generation of Pastai. Karen and Robert are very lucky: the day they went to visit the Martellis was the day they were making spaghetti. When I went, a couple of years ago, I arrived in Lari after a three hour drive on a very hot summer day – did not make me popular with my husband and my friends –  to learn that it was the Martellis production day off. Therefore, I was even happier to hear that Robert is a professional photographer. He sent us some of the pictures he took at the Martelli factory. Look at them! (click here). They are so vivid, it's like you were there, too.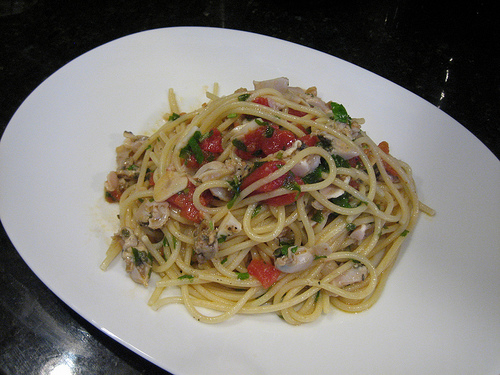 Why is artisanal pasta so much more expensive and so much tastier than industrial pasta? Many reasons, but mainly it is the drying phase: industrial pasta is dried in big electric ovens for 30 minutes; artisanal pasta is air dried for up to 50 hours, depending on the shape.
When Karen and Robert returned to their home in Brooklyn, they didn't unpack right away. They had an urge to create dinner with their beloved pasta and they invented the Spaghetti Martelli and Clams alla Discalfani. Picture on the left and Recipe from the very creator, here.