If you go to Roma and you like seafood, you should go to Da Enzo and Ripa 12. Authentic Italian, with the whole families working on the premises, great food, fresh fish, fairly priced. Not only I strongly recommend them,  you can tell them you were sent by….
Da Enzo is located in the Piazza Cavour area, across the bridge from Via Condotti. Nice walk. This is Luciano Lamberti, chef and owner. Genny, Luciano's wife works the dining room and son Mario is in charge of the wine list. Originally from costiera amalfitana, Luciano took over this restaurant in 2003, after many years in Germany. They clearly prefer Roma and this neighborhood of elegant residences, banks and law offices (tribunale nearby). Only locals eat here. In fact, I discovered this restaurant through my friend, Mietta Capasso, who is greeted as one of the family because she used to work here in her father's public notary office. Tell Luciano yoy were sent by Capasso…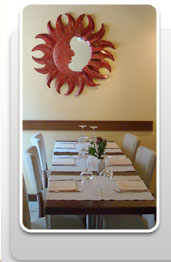 The other recommendation is Ripa 12, located in Trastevere, where most restaurants are tourist traps. I have been going to Ripa 12 for at least 10 years. Always good. Luigi,
the owner/chef and his family have been working there for some 20
years. Caterina, Giuseppe's wife is in the kitchen, son Vincenzo takes
care of the wine list and daughters Emma and Manuela serve at the
tables delicious food. Tell Emma you are a friend of Gustiamo's!