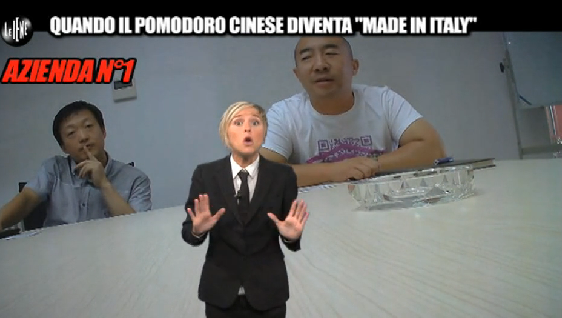 Le Iene or "The Hyenas" is a very popular TV show in Italy. It's kind of like the Italian version of Mythbusters, but much more popular and way more relevant to social issues.
The latest episode of Le Iene is all about tomatoes. Specifically, it is about how Italian companies buy tomatoes in China and then sell them as Italian tomatoes! Let's repeat that: TOMATOES LABELED "MADE IN ITALY" COME FROM CHINA. Damn.
We've know about this practice for a while. Enrica Majo's investigative piece about Chinese imports is bold and riveting. Most recently, thanks to Nicholas Blechman's infographic in the New York Times, the discussion about this disgusting practice has been revived and sparked other investigations. This Le Iene episode is the latest commentary on the subject and really sheds new light on the extent to which Chinese tomatoes are being sold as Italian!
We are not alone in our revolted reaction. After watching this video Elizabeth Minchilli said: "One of the scariest things I've seen in a long time." And Julia della Croce reacted by saying, "Everyone is doing faux Italian–you know, little Italian flags on the tomato labels, Italian-sounding names on the pasta packages, red-white-and-green labels that say 'San Marzano' tomatoes but they're not. Marketeers are trying to capitalize on the high quality of Italian products." Yes, we have been talking about tomato fraud for years, but that doesn't make this video any less incensing.
Le Iene report that Italians are able to pay 440 euro for 1 ton of Chinese tomato concentrate, while domestically grown and produced tomato concentrate costs 1,100-1,200 euro. Depressione totale. This is really upsetting.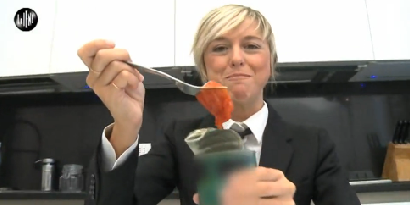 This is SO BAD for many reasons. As this episode shows, tomato from China is laden with pesticides, have added colorants, and have expiration dates changed. But WORST OF ALL, the practice of importing Chinese tomatoes is basically F****** real Italian farmers. Excuse our language. But this is how angry we are. How are tomato framers like Carlo Frigenti suppose to make a living?! This is ruining the lives of good Italians and killing Italian culture.
Yes, this is Italians destroying other Italians. But if you think, for even one second, that this does not affect us here in the USA, think again. These tomatoes—without a doubt—are here in the USA. American purchasing power and demand for cheap food helps to fuel this corrupt system. Look at all those "Italian" tomatoes on the shelves in your American supermarket. Look at the price tags.  How are all those low prices possible? Here is your answer.
We are fuming. Just livid. Infuriated!
We have added a few English ques to the Italian episode below, in three parts:
Link to the petition: https://www.change.org/p/vogliamo-il-vero-made-in-italy-veromadeinitaly-matteorenzi-maumartina-leiene/u/13574883?tk=P6e7UskMgcGZxqVTGr4NSrM6f9Kdv8SC0czSLJaFXwQ&utm_source=petition_update&utm_medium=email