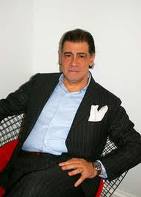 Gianfranco Sorrentino invited a group to his restaurant, Il Gattopardo, in order to explain what his Gruppo Ristoratori Italiani is all about. He was assisted by David Ernst (Director of Membership) and Theresa Hopkins (Executive Director). I'll write another journal about the Gruppo, later. Now, I need to tell you about the dinner. Apart from the fact that dinner started when I usually go to bed, after 10pm, we were served incredible food prepared by Vito Gnazzo, who received a standing ovation.
Let's see if I can still remember what we had, after all that wine! Hot arancini; warm seafood salad; paccheri with genovese sauce (despite the name, it is a neapolitan sauce); shank with rosemary; cassata for dessert.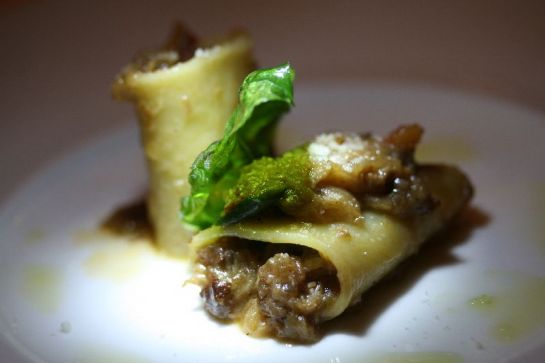 Well, it was really great. Was it the food that made the company so enjoyable? There were so much laughs, it was like being with old time friends from school. The great wines provided by Tommaso Pipitone (LOVED the Fontanafredda white) made us switch from english to italian and, with an ease never found before. Rosario Procino and Roberto Caporuscio of legendary Keste' pizzeria said the legend of the long lines at their doors is a legend and we should go. The judge Michael Pesce (what is a judge doing in such  company? He must really love Italian food!) who married Odette Fada; not really, he wished!!! she is married to Philippe who works at Ducasse (good – not all italians) and the judge presided. Judge said Neapolitans are forbidden to serve genovese sauce when the soccer team of Genova plays in Napoli.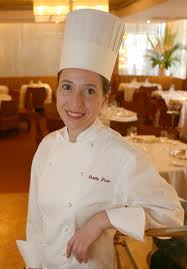 Odette is happy in her new carrer as food consultant (she and Stefano Milioni – another new friend – are working with Giovanni Rana's stuffed pasta business, which sounds interesting. Our best wishes to Odette and Stefano). Frank de Falco, next to me is a marketing consultant who specializes in lifestyle (Cantine Lungarotti are among his customers), to my right, Roger Turgeon, who founded and runs a school called Food and Finance in New York City (who knew?). Young Chef Riccardo, who cooks Cucina Povera near Milano and had tears of affection when Corrado Assenza (not present – he should have been! he was also featured on slide shows of GRI's trip to Sicily) was mentioned. So many more friends… if how long you stay at a party is any indication of how much fun you had, we left after 1 in the morning. So, you do the calculations! Gianfranco, this is Gustiamo's Thank You note. Great job!!!