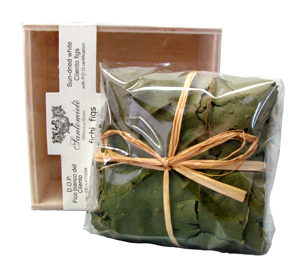 We are HAPPY TO REPORT the Dried Figs from Cilento were cleared by FDA this morning at 8:52 am. You can place your order now!
Read in this previous post why they were detained and why we were in so much pain. A "minor labeling violation" which took 75 days to clear only as a result of our daily emails and telephone calls to various inspectors in various cities. Finally, we received the Go Ahead and you too (not only the FDA inspectors) can taste this incredible treat.
These figs have a dense white pulp that is extra sweet,  more tender and fine seeded than the coarse Turkish, Greek or Calabrian figs one usually finds in the market. Stuffed with almonds, soaked in rum and fig mollasses with citrus peel and raisins, they are gift wrapped in fig leaves. The packaging is artistic, the scent and flavor of the figs irrestible. Beautiful to eat or to give, this is a delicacy you won't want to miss.