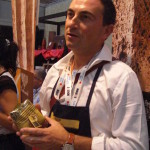 This is Antonio Longo, the owner of Santomiele, a small company in Cilento, which is in Campania, near Paestum. The area is beautiful, I went to visit Antonio a couple of years ago. Cilento is famous for many things, in particular for its Dottato Figs, which have a white and delicate skin and small seeds. These figs are so famous that they are even DOP. I met again Antonio this past October at the Salone del Gusto in Torino. We have been carrying the Dry Figs for many years and they reached stellar attention when they were featured in the  New York Times, last year.
The new 2008 dry figs have finally flown in. Of course, we have the tough obligation to open the package and taste the content. It is called Quality Control. This is how the Fagottino looks like.
It looks great. Then, the final test. You have to eat it. And, how does it taste? Unanimously: It tastes DELICIOUS. Sorry Phyllis, I had to post it. But don't you dare to resign! Watch the video, below; It is called UHMMMM!