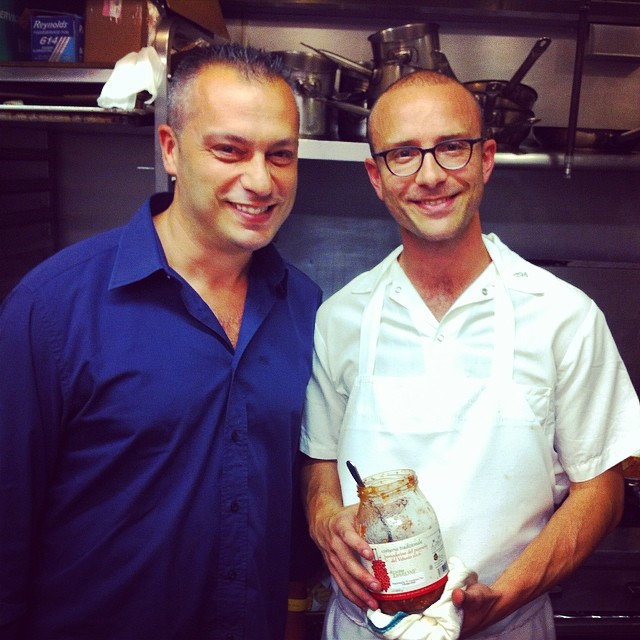 What a whirlwind of a few days we have had around the Fancy Food Show. And by whirlwind, what we really mean is: best time ever. It was a complete blast. We had so much fun with our food producers, customers, and friends at the show and at all our FuoriFancy activities. It is really hard to believe it's already over.
Our Fancy Festa began with a kick off dinner in Brooklyn. As soon as our producers stepped off the plane from Napoli, we whisked them away to Roman's in Fort Greene so that they could taste some of their products in action.
The next day, we were all up bright and early for an epic Open Warehouse. Seriously, we don't know if we will ever be able to top this one. It was complete with a Locali Pizzeria pizza truck parked in the Gustiamo courtyard, Neapolitan poetry reading, extra virgin olive oil gelato, Piennolo and San Marzano tomato sorbet, Gun Hill Brewery beer, and a guest appearance from our favorite American farmer Ray Bradley. Phew.
Perhaps the climax of our Fancy Days was our dinner at Celeste's restaurant. Together with our chef friend Gerardo Guarino, we served a wonderful meal to 50 of our favorite people. It was truly a night to remember.

And thrown into all of this was our main event, the Fancy Food Show! Our booth was buzzing all show long with our friends stopping by to taste tomatoes and see what's new at Gustiamo.
How did we conclude the Fancy Food festivities? Back to Brooklyn. This time to Juliana's for our bi-coastal Skype pizza making session with Pat Grimaldi and Una Pizza in San Francisco. Which of course ended in a dance party, complete with table top dancing.
Now that it is finished, what will we do with ourselves?! Back to fighting crime and filling people's empty wine bottles with EVOO!