WHAT IS A CAPER? WHAT IS A CAPERBERRY?
We're sure you've noticed. Capers and caperberries are trending right now. Lots of people are experimenting with our capers and caperberries for the first time, with magnificent results!
They are remarkable little flavor gems. In fact, capers and caperberries have long been the secret ingredients for many of our most seasoned chef friends— no pun intended 🙂
But what are they? Check out the illustration below.
The caper is the flower bud of Capparis Spinosa (aka the caper plant) and the caperberry is the fruit.
Capers and caperberries are harvested by hand throughout the Sicilian summer. Many buds are harvested, those are the capers. Some of the buds are left on the plant to bloom into stunning flowers and then bear fruit, those are the caperberries.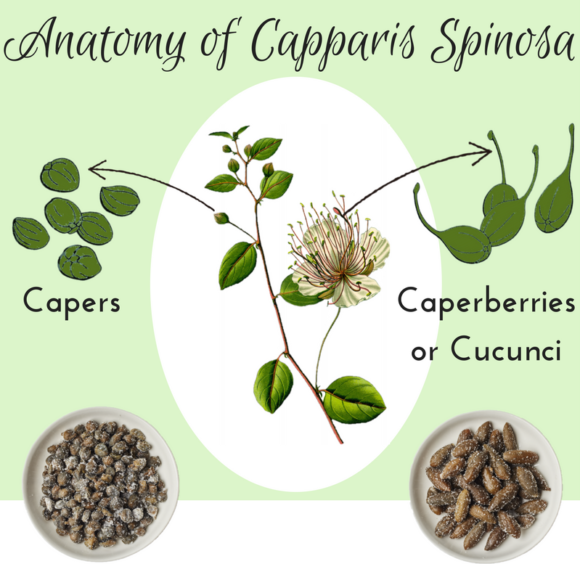 A NOTE ABOUT FLAVOR + SALT
Our capers and caperberries are packed in sea salt. This is a huge plus and a sign of excellent quality.
The sea salt keeps them plump and full of caper flavor. Mediterranean caper flavor, that hasn't been diluted by vinegar or preserving agents, is INTENSE.
These capers and caperberries are not bland.
They are perfect raw as well as cooked. They need to be rinsed well, first.