Just outside the walls of the old city of Verona hides the outpost of the fascinating Italian art of coffee roasting, Torrefazione Giamaica Caffè. Quite secretive and low key, this tiny coffee roastery made history in the coffee world, in Italy and beyond.
Simone, son and legacy of the late coffee legend Gianni Frasi, is roasting coffee beans the same way he's always seen it done in his family: over the open flame of an original roasting machine from the 1950s. YES! The premium quality coffee beans selected by Simone actually come into contact with fire while roasting.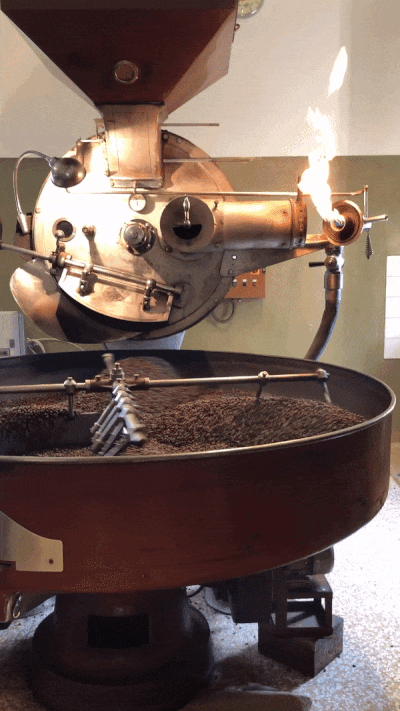 Let us introduce you to the Vittoria coffee roaster. This impressive machine was invented in 1957 and immediately adopted by Giovanni Erbisti, Gianni Frasi's uncle, who had founded Torrefazione Giamaica Caffè back in 1947. Caffè Giamaica's Vittoria coffee roaster is the only machine of this kind still in use today.
The roasting process has not changed a bit, it starts with green coffee beans being poured in from the top in small batches. Once in, the beans lightly dance with the flames in the spinning wheel for a time that varies between 10 and 15 minutes. There's no automatic control whatsoever, it's all in the hands of the coffee roaster. Look at Michele, Simone's trusted roasting assistant! He's not taking his eyes off the coffee beans to determine when they reach roasting perfection.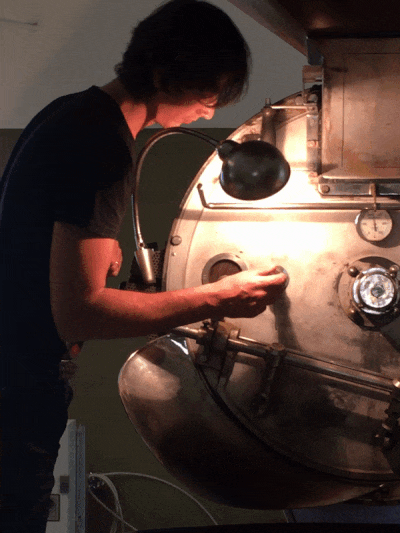 This is not only mesmerizing to watch, it is a triumph of the skills of the artisan. Giamaica's one of a kind technique and iconic machine create a unique coffee roast with classic Italian espresso aromas: a full bodied dark coffee with bold notes of liquorice and a slightly smoky long finish. With its signature flavor and legendary reputation, Giamaica Coffee is a monument to the Italian coffee culture and a resisting pillar of long lasting traditions.