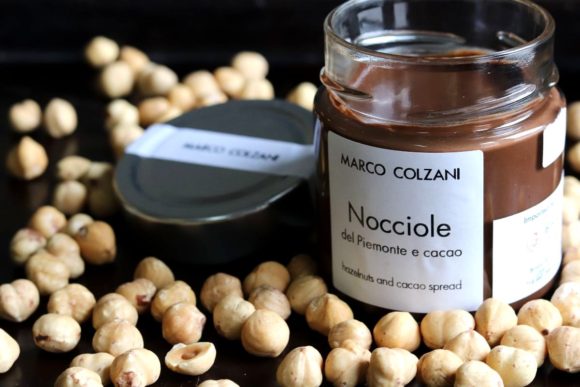 The hazelnut is an Italian icon. From gelato, to chocolate, to biscotti, the hazelnut has played a pivotal role in defining much of the Italian pastry kitchen.
The hazelnuts that we import are the exact same hazelnuts that Marco Colzani sources for his world-renowned chocolate hazelnut spread.
The name of our hazelnut producer is Terra delle Nocciole and they are located in Piemonte's Alta Langa. Like Marco Colzani, we at Gustiamo are humbled to work with these extraordinary Piemontese hazelnut farmers.
The People.

Meet Marco, Marco, and Giorgo, our hazelnut farmers! These three friends have been together since kindergarten. They all grew up in Cravanzana and now they work together to farm the hazelnuts.
Is the farm just these 3 guys?
No. During the year, usually just around pruning time, they hire other workers to help out on their farm. The people that they hire come from local labor cooperatives and are all paid according to Italian labor laws. Also, during the harvest sometimes their family members help, but most of the time it's just Marco, Marco, and Giorgio!
The Place.

Marco, Marco, and Giorgio care for about 10,000 hazelnut trees throughout the Cravanzana countryside in Alta Langa, Piemonte. Alta Langa is THE PLACE that made Italian hazelnuts so famous. The microclimate there, characterized by cold nights and sea breezes from the Ligure coast, is perfect for producing hazelnuts. This picture below is a shot of some of their hazelnut groves.
The Variety.

The name of the hazelnut variety they farm is Tonda Gentile Trilobata. When grown in Alta Langa, this hazelnut's flavor profile is sweet, high in minerality, and completely free from bitter or burnt notes.
The Harvest.

Marco, Marco, and Giorgio harvest their own hazelnuts. Their hazelnuts are always collected from the ground, and they use a machine (it's this one, above) to facilitate the process. The machine picks up the hazelnuts and separates the nuts from the sticks/leaves. While one person drives the tractor, 2-4 people rake the hazelnuts into the middle (that's when their families sometimes help out). While the hazelnut grove you see here above is flat, some of their other groves are on steep inclines; but with the use of terrace farming, the tractor is still able to collect the hazelnuts.
The Price.

Gustiamo and Marco Colzani are proud to pay the right price for hazelnuts. By paying our farmers a fair price we support sustainable agriculture and help to improve our food system.