"Non siamo in California!!" "We're not in California," was the first thing Corrado Assenza of Caffe' Sicilia, told me when I started asking questions about Bronte, Sicily's pistachio harvest, a subject that has always perplexed me. Although the taste of the Bronte pistachio is simply delicious, the cultivation is decidedly complicated.
The pistachio trees that grow around Mt. Etna are picked every other year, usually in late summer. On the year out, instead of harvesting, the local farmers sacrifice. They remove the newly formed fruit to avoid the risk of exploiting the tree.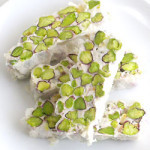 The farmers in Bronte are on the odd year schedule. They sacrifice their yield on even years, and harvest on odd years. The every-other-year thing might seem like a huge loss, but it does have a bright side, a bright green side, to be exact. The Bronte pistachio is spectacular and definitely worth the wait. It is sweet and meaty, with an intense aroma. and astounding emerald color. In 2011 the pistachio harvest in Bronte was a good one and the vacuum-packed pistachios we have at Gustiamo are fantastic.
In fact, I am eating some right now, strictly for the purposes of inspiring this blog post. In Sicily, these pistachios are used in baked goods, gelato, on pasta, in cheese and in salami, but my favorite way to savor them is actually raw. Or, quickly toasted in a pan on the stove, which releases their essential oils. My second favorite way to eat them? That would have to be in Corrado's handmade torrone.
By: Danielle