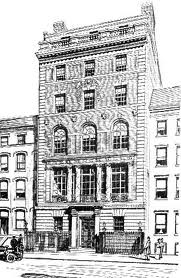 First, the building: it's a Stanford White small building (1905) off Times Square on 44th st, that has been recently renovated and converted into the small (only 80 rooms) Chatwal Hotel. High quality renovations in a beautiful building. On behalf of all New Yorkers, thank you Mr Chatwal.
Second, the history: this building was the clubhouse of the legendary Lambs Club, a group of theater artists who lived and worked there. A home away from home. The Lambs Club (artists) is still alive and moved 35 years ago to 51st st. The good news, here, is that Mr Chatwal did not dislodge them. They left the building a long time ago.
Third, The Lambs Club, the restaurant in the Chatwal Hotel, has nothing to do with The Lambs Club above. If you are able to wind your way out of Times square, you are in for a real treat!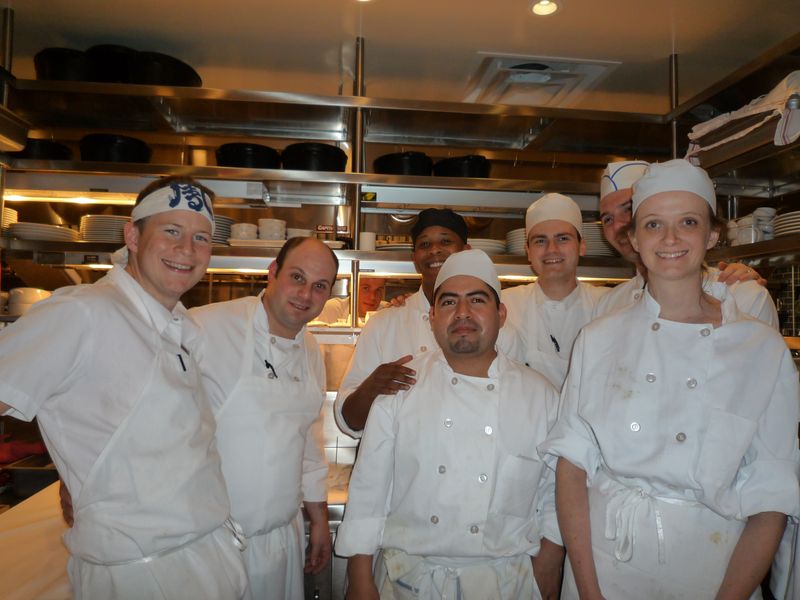 The restaurant is lovely, fin de siecle-clubby, elegant atmosphere, with red leather booths, fireplace (gas fake – you can't have it all!) and all the trims of the art deco scene. It's that kind of restaurant where you can hear yourself talk. Kenny Cuomo is the brilliant chef and he arrives to The Lambs Club straight from the NYTimes four star Del Posto. Chef Kenny and his team (picture left, in the kitchen) honored us with a preview of their Fall menu: from the apetizers (oysters and tuna sashimi) to the entrees (a wonderful chestnut flour pasta with pork cheeks and a similarly wonderful red snapper) to the dessert, everything was wonderful. Service impeccable.