Today we remember Gareth Jones.
Today, August 19th, 2015, is the day of his memorial. I am so sad that we are not in London today, among Gareth's family and friends.
Gareth was the most passion-filled, genius, straight-to-the-point, eccentric, and energetic food person I have ever known. Gareth was an incredible human being.
My friendship with Gareth started in Parma– naturally, an epic food city. It was 2003. Gustiamo was in its infancy. We were all there for Cibus. Of course I noticed him. He was the only other person as loud and opinionated as I was! After 10+ years of friendship he proved to be relentless. He was so consistently tenacious and stubborn when it came to food, just like me.
Ever since our first meeting in Parma, Gareth remained an important food kindred spirit in my life. We would always bounce ideas off each other, share contacts, unload rants on each other all with the best intentions and total generosity, it was a lot of fun.
Over the years, I sent people to Gareth. When our Danielle was in London in 2013, she went to see Gareth. He told Danielle that "Beatrice is like a sister to me." I know what he meant. I felt related to him too, by being one of the last independents. Which, of course, is the name of his blog, "Last of the Independents." Gareth spoke his mind, he was not owned by anyone physically or financially, and he was uncompromisingly for good food. Just like Gustiamo. Gareth loved Gustiamo and our mission to support real Italian.
Over the years, Gareth sent me to people. He always seemed to know what I needed. Once, while in Madrid, he sent me to Vicky Hayward. It was a very memorable gastronomic experience, a beautiful glimpse into Madrid's authentic eating culture.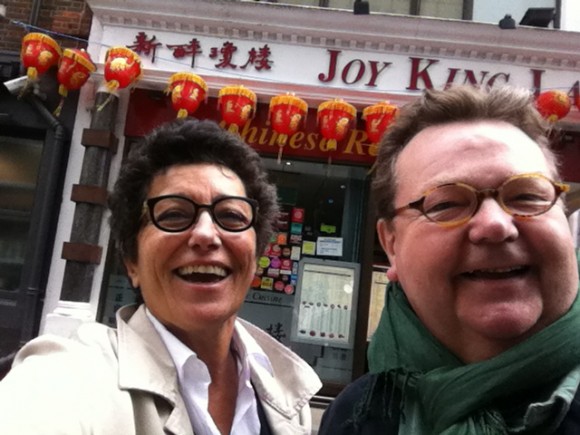 Pesto was a big topic between myself and Gareth. For Gareth, pesto was a source of revelation. It was the iconic example of how good Italian traditions have been adulterated by mass market and the desire to always pay less. When Gareth was a judge in the International Championship of Pesto in Genova in 2012, he was in his glory. Ever since then, Roberto Panizza, the Championship's organize and master pesto maker became Gareth's pesto confidant and best friend.
When I finally saw Gareth again, in 2014, we (obviously) had a blast. This time on his turf, in London. We went to Joy King Lao for Dim Sum. It was the highlight of my visit to London. We may have made a scene that day in that Chinese restaurant, carrying on and catching up. It was an epic lunch.
I am sure, like most people, when I saw the news of Gareth's passing on Facebook, I was in shock. Just 2 hours before, I had liked a photo he posted from Puglia. When I read the news, I immediately called my young friend Pietro Hausmann, he was part of Gustiamo's Cibus team back in 2003 when we first met Gareth. Pietro and I just stared at our computer screens in disbelief.
Caro Gareth, I will miss your sparkle. Your support. Your creative suggestions. Your thoughtful advice. Your poetic comments. I will miss how you always seemed to know what I needed to hear when I was down about yet another blow to good Italian farmers.
In an email to me from 2013, Gareth recounted an anecdote about frying fiori di zucca. We were talking about Marcella Hazan's recipe. Gareth ended his story by saying, "happy memories brought on by sharing foods." Gareth, I have cherished the last decade+ with you, creating happy memories brought on by the literal and conceptual sharing of food. Cheers to you, Gareth, and your important life. Grazie mille.