Friarielli is the name for broccoli rabe in the Campania region. It is an onomatopoeic reference to the crackling sound they make when tossed still wet into sizzling EVOO with chili pepper and garlic, the traditional recipe. When you say "free-ah-ree-elle-ee," you can almost hear them sautéing, right?
These Friarielli are grown with dedication by the fabulous Franco + Fabrizio team of Maida farm in the Cilento area, just south of Napoli. They produce just two types of broccoli rabe, called Sessantini and Novantini because they are harvested 60 or 90 days after seeding.
This is the ideal time span to allow their Friarelli to reach the perfect texture and flavor profile: they are crunchy yet not too fibery and have virtually no bitterness, just delicate herbal notes and a delicious sweetness. These Friarielli are sure to please even those who claim to "not like broccoli" (unbelievable, but we hear they do exist).
Once harvested, they are simply blanched in water and sea salt and preserved in Leccino EVOO with a bit of garlic and some chili pepper, also grown on Maida farm.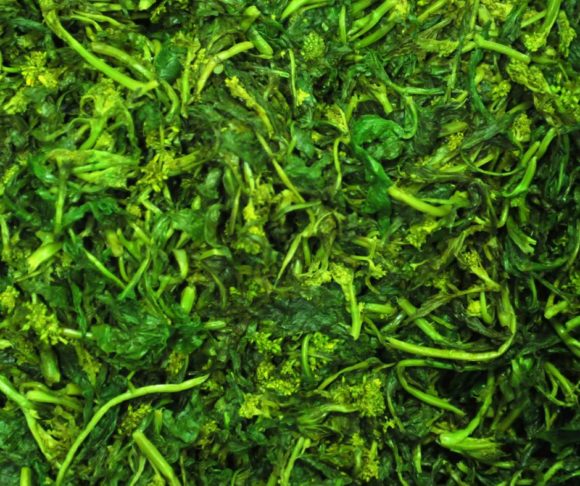 Enjoy Maida Friarielli straight out of the jar with your charcuterie board; a rustic salame + smoked cheese are especially recommended here. Or use them for the most iconic (and opulent) of pairings: with sausages for your pasta sauce, as pizza toppings, or for an outrageously decadent Panino.