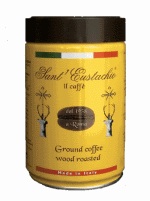 If you thought you never could afford a cup of this exceptional coffee because it was too expensive, think again! Sant'Eustachio price descends from the mountain top. A tin of 250 gr or 8.8 oz of Sant'Eustachio coffee is now $14.50. It has become as affordable as the other coffees you find in your local supermarket. You have no excuses, now!
Like the price, the tin is more slender than the chubby one you were used to, before. New tin on the left.
What happened? Raimondo and Roberto Ricci, the brothers who own the legendary Sant'Eustachio, decided to move the roasting process and packaging from the tiny space behind the famous bar in Roma to a real plant in Trieste, Italy's coffee capital. As before, the coffee is roasted using wood fed machines which make the coffee perfectly balanced in taste, body and fragrance. With the move comes bigger production, economy of scale, lower prices and a desire to grow. Gustiamo took the discount and added some more. We want to grow with Sant'Eustachio coffee, too.