Gustiamo went to a wonderful and fun event, Identita' Golose, yesterday, organized by the tireless Paolo Marchi from Milano. It was a STELLAR group of 6 Italian and 6 American chefs who share ideas, cook together, translate for each other and show us how great dishes are created by great minds, tradition, ingredients and innovation.

We attended day 2: Michael White said the importance of ingredients and technique is 75-25. Gennaro Esposito from Vico Equense taught us why we should prefer an artisanal pasta vs an industrial one that looks and tastes like plastic and how to cook a pasta that is al dente, but not raw. Carlo Cracco insisted about the emotions he wants you to have when you taste his creations. Wylie Drufesne was a little too complicated for me. It was a very well organized day, everybody enjoyed the show tremendously, including the Eataly family who were all in attendance. Great job, everybody! We loved it!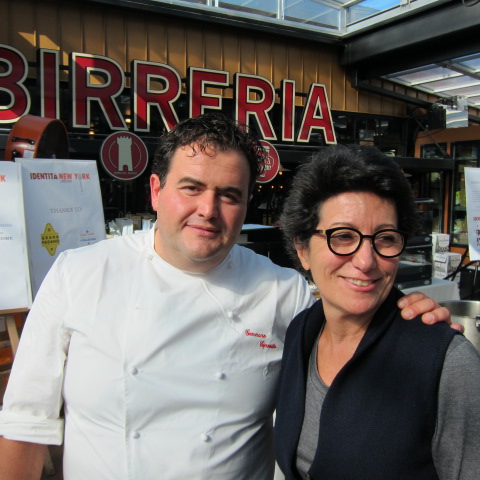 In particular, we loved Gennarino Esposito (left): he cooked his legendary "Torre del Saracino" "spaghetti al pomodoro." Fantastic!
Well, I dared to ask him – not without trepidation – which tomatoes he used. He said his own grown tomatoes had not arrived in time, he searched the market and tried all the tomatoes he could find. What did he choose and use? DANICOOP San Marzano Tomatoes!!!
I rest my case! This really made my day!