Opening a copy of Wine Spectator is so satisfying. If you are a Spectator fan, you know what we mean; the magazine is so big and important.  It's even more satisfying when there is a pin-up shot of your favorite Gusti Foods inside!  Wine Spectator just came out with an article called "Pizza Party Essentials" and they look to gustiamo.com for their essential pizza ingredients.
Roberto Panizza's pesto steals the show, made with "tiny baby basil from the Ligura DOP, sweet garlic that has less bite, Trapani sea salt from Sicily, and aged fiore Sardo cheese. The mixture is pounded by hand with a mortar and pestle. This breaks the ingredients down differently than a kitchen processor would, keeping their flavors brighter and fresher. The result is a pesto with super-clean flavors: The basil doesn't have that licorice edge it can get sometimes, and the garlic isn't hot."
Owen Dugan, the article's author, advises everyone not to cook pesto on raw dough, and that "pesto should  never be cooked, but rather warmed." And he goes on to say:"bake a pie with just a sprinkle of good salt, and when it's done give it a quick drizzle or smear on this [pesto] stuff."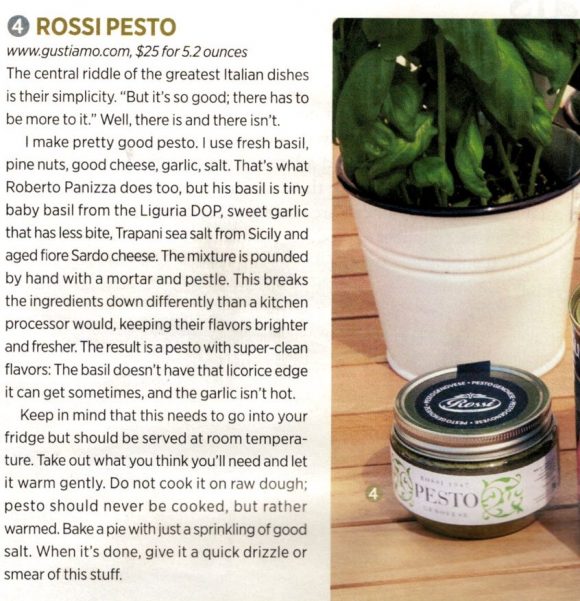 Owen also talks about Real San Marzano Gustarosso Tomatoes and he advises that when making classic  pizza, "never use fresh tomatoes." Canned tomatoes are always better. Dugan highlights the quality of Gustarosso's DOP San Marzano tomatoes, describing them as "meaty" with "more substantial tomato flavor than just about any other canned tomato." He advises to "crush them with your hands into a bowl, sprinkle them on the pie as needed, maybe drizzle a little juice around, and on to the next step."
Here is a link to all the Gustiamo ingredients that are perfect for home pizza making.