That feeling when a Sarda Nonna cooks you lunch? Amazing. During our visit in Sardegna we had the pleasure of feasting with the Pinna Family, the makers . The feast was prepared by la Signora Carina (Caterina in the local dialect).
When we first met Carina, we insisted that a plate of pasta would be enough for lunch, but it's impossible to insist with an Italian nonna who's made up her mind She told us not to worry and then prepared us a three course meal.
What was the best part about the feast? Antichi Uliveti Extra Virgin Olive Oil on everything. EVERYTHING. Sauteing, roasting, drizzling and even frying.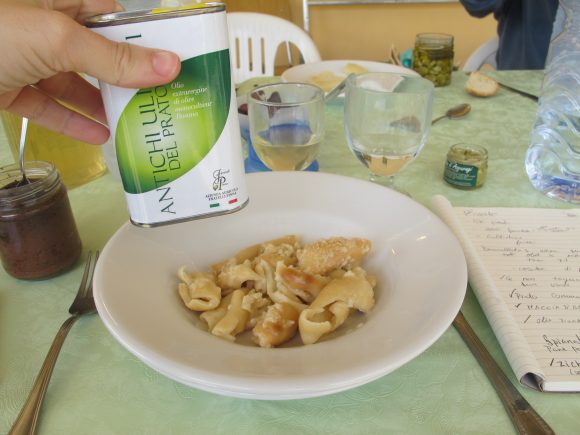 All of the dishes we had were from Sardegna's typical cuisine. We had Su Zichi (pic above), a  local thin crunchy bread cut in squares and cooked in sheep's broth accompanied with cheese, and Antichi EVOO of course.
Next up was Maialino Porceddu. Yes, that's right Nonna Carina cooked an entire suckling pig just for us. Maialino Porceddu is one of Sardegna's most traditional an unique dishes, served with oven roasted Sarde onions.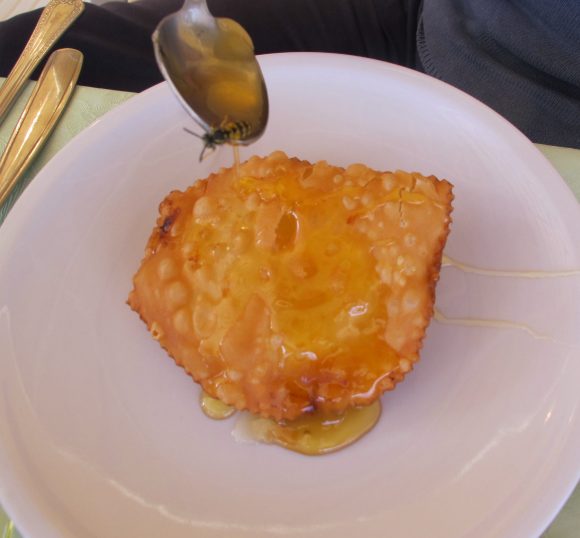 For dessert? Seadas. Of course. You can't get any more typically Sardo than seadas, round dough puffs filled with cow's milk cheese and drizzled with cardo honey.  We were eating outside, and as you can see, even a bee was attracted to the sweetness of the honey. Can you get anymore farm to table than that?
How did Nonna Carina make the Seadas? She DEEP fried them in Extra Virgin Olive Oil Antichi Uliveti, which is what makes them so tasty! Watch Carina explain why, video below.