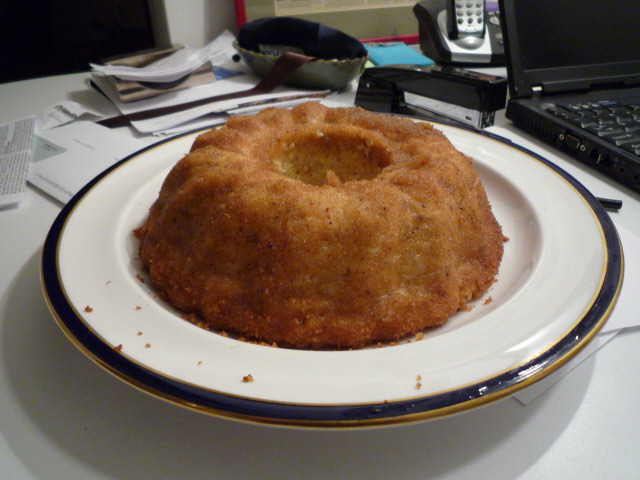 A recipe from La Cucina Italiana magazine, adapted by Beatrice
(1+1/2 hr) 6 to 8 servinges
Bechamel:1+1/2 cup of milk/3 tbspoon unsalted butter/2 tbspoon flour/salt/pepper/grated nutmeg
Cauliflower and Custard: 1 big cauliflower (3lb)/2 eggs/1 cup parmigiano/salt/pepper/2 tbspoon butter at room temp/ home made bread crumbs
Heat oven 325 degrees.
For Bechamel: melt butter, add flour; when combined, add slowly milk, stirring constantly until sauce is very thick (20 min). Season with salt, pepper and grated nutmeg.
For Cauliflower: discard leaves, trim tough stems, boil or steam cauliflower (20 min), drain and take off water (put batches of cauliflower in clean dish towel and twist it over sink until all excess liquid is removed from cauliflower). Chop the cauliflower.
Beat eggs in large bowl; add bechamel and whisk to combine. Add cauliflower, cheese, salt and pepeper and whisk to combine.
Butter a baking dish and coat with bread crumbs. Add cauliflower mixture. Bake until sformato sets and lightly browns, about 1 hr. Remove from oven, let rest for 20 min, then unmold. Serve warm or at room temp.