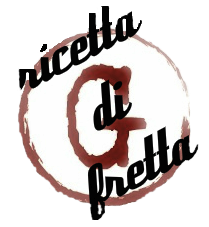 Ricetta di Fretta" means "recipe in a rush". At
Gustiamo
we think it is important to emphasize that you do not need a 20 step recipe and a food mill to prepare a wonderful authentic Italian meal. By "fretta" or "rush" we do not mean compromises nor do we mean, for example, microwaving your garlic to save
90 seconds
 — NPR, you know we love you very very much, but "dai!" We won't be microwaving our garlic and in fact
we, like the esteemed Marcella Hazan, do not use or even own
microwave ovens.
By "Ricetta di Fretta" we simply mean cooking the way our Italian and Italian American parents and grandparents did on any old week night. It is these impromptu pasta dishes, vegetable purees, and egg frittatas that fill the space in the Italian cuisine. It is through these dishes, that do not
require precise measurements, where real learning and growth takes
place in the kitchen.
Look for our Ricetta di Fretta logo on
Facebook
 and our #RicettaDiFretta hashtag on
twitter
. We hope that we can inspire you to experiment with Italian flavors in your kitchen! What if you have questions while you are cooking your Ricetta di Fretta? Call us at 718 860 2949. We'll be glad to answer, with an authentic Italian accent.