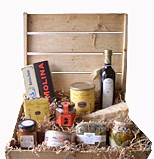 Do you know Gustiamo does Holiday Gifts? Whether you have a list of 5 or 15 or 100, we would love to take care of your Holiday Gifts. Here is a selection of "themed" gifts prepared by Martina, in one of her most creative moments! However, you can choose whatever you want. You can send everybody in your list the same item, or you can make different gifts for different tastes. We'll help with the decision. Call us @ 718 860 2949. Does your friend/family/business associate/client cook? not cook? prefer sweets? is from/had a wonderful trip in a particular region of Italy? Is he/she a traditional type and only wants Pandoro/Panettone/Nougats and Chocolates?
Our gifts can be packaged in plain (what plain? they are beautiful and clean – no plastic ever used @ gustiamo) cardboard boxes. Or they can be packaged in our Outer Borough Chic Crate, the ultimate recycle, for a little extra.
We will include a card with your Greetings message. If you so desire, we can also include real recipes, description of the products, story of the producers… Your friend/family/business associate/client will become as passionate about authentic Italian foods as You and we are. Give us a call and let's start working on this together!!!